Kamera 4K untuk papan tulis dan kolaborasi IFP
Menampilkan sensor Sony WDR 4K berkualitas sangat tinggi, lensa sudut lebar 120 derajat, zoom digital 5X, berbagi konten di papan tulis atau IFP tidak pernah semudah ini. Bagikan konten penting secara virtual dan instan tanpa mengurangi kualitas komunikasi Anda.
Sertifikasi Ganda Microsoft
Berkat Sertifikasi Ganda Microsoft CAM130 yang baru, Ruang Tim Microsoft bekerja sama dan beralih dengan lancar antara konferensi dan mode kamera konten, memfasilitasi semua jenis komunikasi virtual.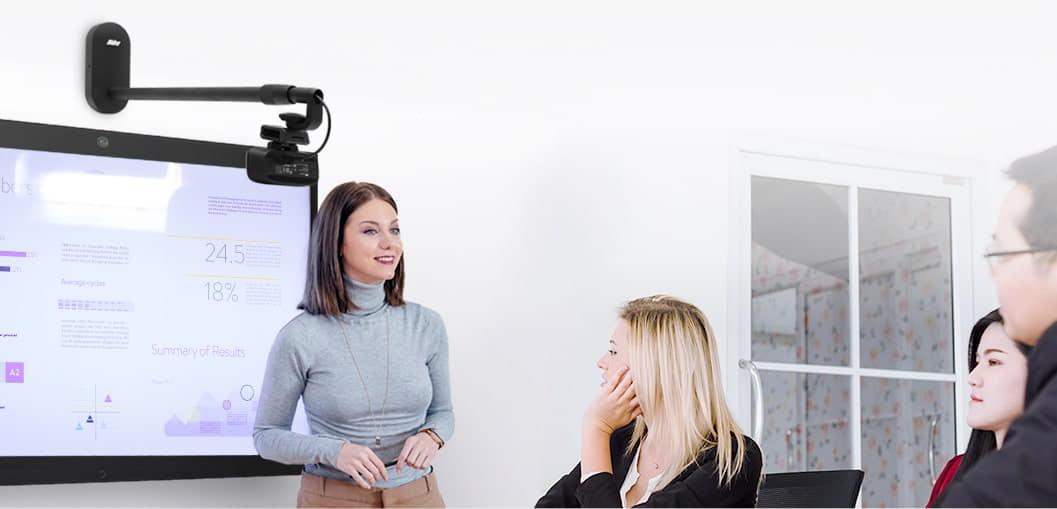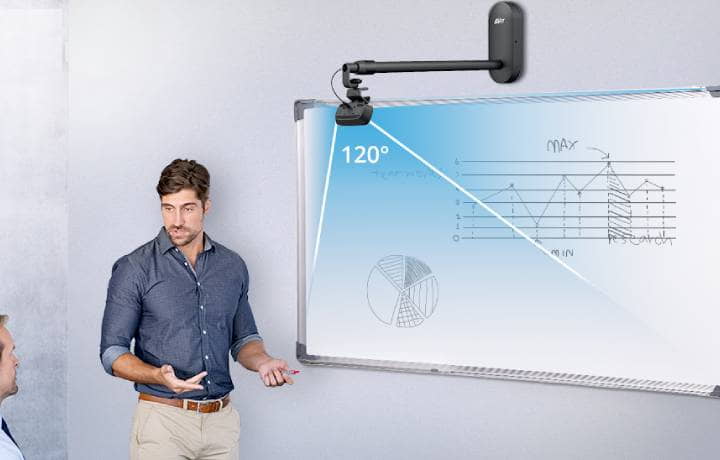 Komponen Kualitas Premium
Rasakan kualitas 4K profesional dengan sensor Sony WDR hanya untuk pengalaman berbagi konten paling premium. Sudut pandang 120 derajat berarti tidak ada konten yang keluar dari bingkai dan kemampuan zoom digital 5X menghadirkan tampilan konten yang lebar namun presisi. Balikkan kamera dan rasakan kualitas yang sama untuk konferensi virtual.

Berbagi Papan Tulis dengan Mudah
Kirimkan informasi dengan mudah melalui fungsi pembingkaian ulang papan tulis otomatis CAM130 Content Camera, sehingga memungkinkan untuk berbagi konten yang jelas dengan mudah di mana pun sudutnya. Berkat AI Sertifikasi Kamera Konten Microsoft Teams, berbagi papan tulis dipertajam secara otomatis, dan penyaji dibuat transparan saat berdiri di depan konten papan tulis.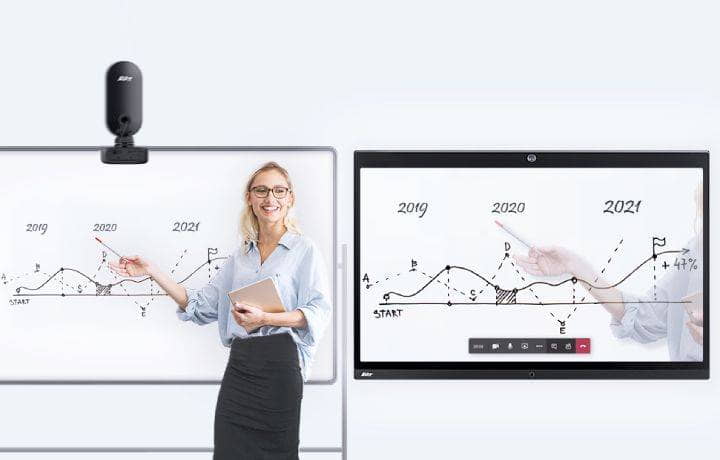 Kedipan Terlihat Berkurang
Hapus kedipan hitam yang mengganggu yang biasa terjadi saat merekam tampilan IFP dengan teknologi penghilang kedipan AVer cerdas. Berbagi konten Sharp tidak lagi membedakan antara papan tulis elektronik dan non-elektronik.*
* Silakan unduh PTZApp 2 untuk mengatur fitur-fitur ini. (Gratis)
Instal dengan mudah dan nyaman menggunakan add-on dudukan papan tulis opsional dengan panjang yang dapat disesuaikan, dirancang dengan cermat untuk memenuhi kebutuhan ruangan atau papan tulis apa pun. Menampilkan konstruksi yang kuat dan ruang kabel yang luas, dudukan dinding AVer sangat cocok untuk Kamera Konten CAM130.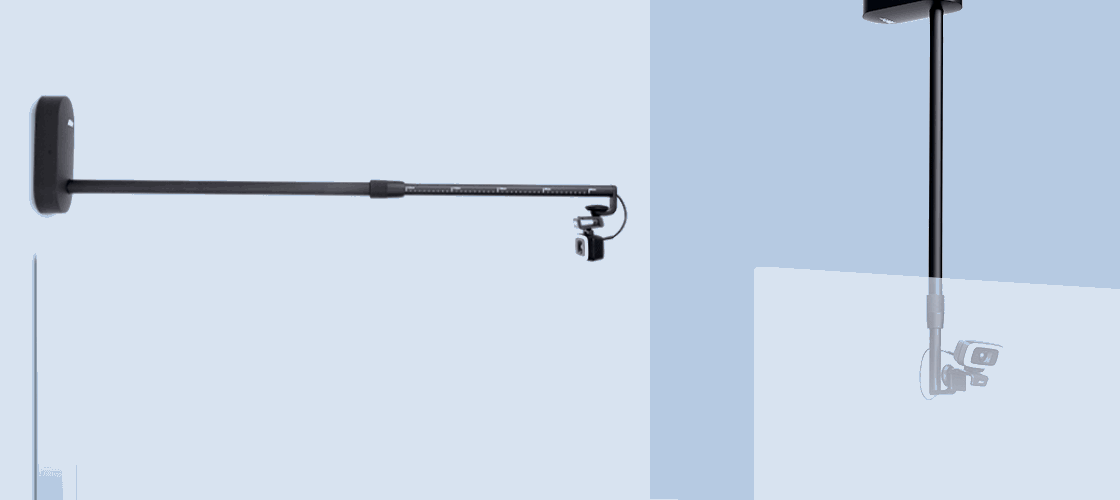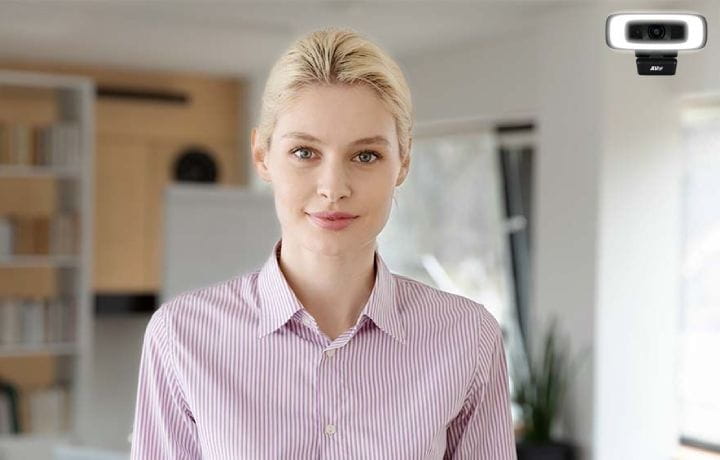 Fungsionalitas Konferensi Tambahan
Perlu beralih ke konferensi video? Tampil profesional dengan sistem pencahayaan CAM130 sekaligus melindungi privasi dengan penutup lensa bawaan.
Depan Kamera
Sisi Samping Kamera
Belakang Kamera
Whiteboard Mount
Depan Kamera
Depan Kamera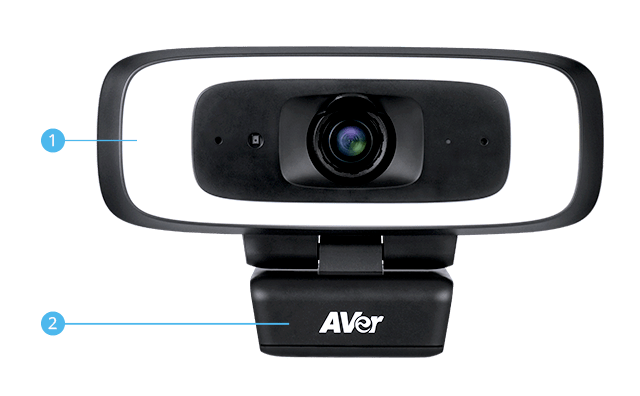 Isi cahaya
2Klip TV bawaan
Sisi Samping Kamera
Belakang Kamera
Whiteboard Mount
Camera Product Specifications
Top case: plastic
Base case: metal
Rod: Aluminum
 
 

Whiteboard size(L)

Rod length
Mounting method
< 1.2 meter
80cm
Mount 3cm above the center of the board
1.2~1.7 meter
100cm
1.8~2 meter
120cm
Any size
80~120cm
Install the mount on the ceiling and the location is in front of central top of the board. It is suggested to place the camera at least 1 m away from the board to ensure complete capturing of the board frames
* Specifications may vary depending on countries and are subject to change without notice.
Mount the mount base 3cm above whiteboard/ IFP
The supported maximum whiteboard size is 2m (L) x 1.2m (H) when mounting above whiteboard
To capture a whiteboard which is more than 2m (L), please install the mount on the ceiling
Please adjust camera angle to completely capture the frames of the whiteboard/IFP
On full wall whiteboards, you can use dark-colored tape to create frames on top/bottom/left/right to define a content area